In January 2019, the Alcobendas Encuentra project was launched by the revolutionary lost property platform Foundspot (objetosperdidos.alcobendas.org). Foundspot automates and optimises the process for dealing with lost items for the residents of Alcobendas.
Alcobendas Encuentra, acts as the link between the police and residents who have lost an item, making it much faster and easier to recover lost property in the area. The new digital platform avoids hundreds of unnecessary calls and emails, as it allows residents to register lost items online and communicate directly the lost property office at the Alcobendas Town Hall.
Local residents can register a lost item using their mobile phone or computer and will receive a response from the local police directly back to them on the same platform. All the information is available to the agents working in each of the three local police stations, where they can also inform residents in person.
Between January 2019 and March 2020, a total of 643 lost items – valued at a total of €44,000 – had been returned to their owners, thanks to the Alcobendas Encuentra initiative endorsed by the local police.
Since working with the Alcobendas Town Hall to help residents recover lost property, Foundspot has achieved some encouraging results, which have proven the service has real value for the local people:
Most common lost items
1. DNI cards (25.4%)
2. Bank cards (11%)
3. Mobile phones (10%)
Months with the most returned items
1. May (11%)
2. October (9.8%)
3. February (9.5%)
Areas with most lost items:
– Central Alcobendas (Distrito Centro)
– North Alcobendas (Distrito Norte)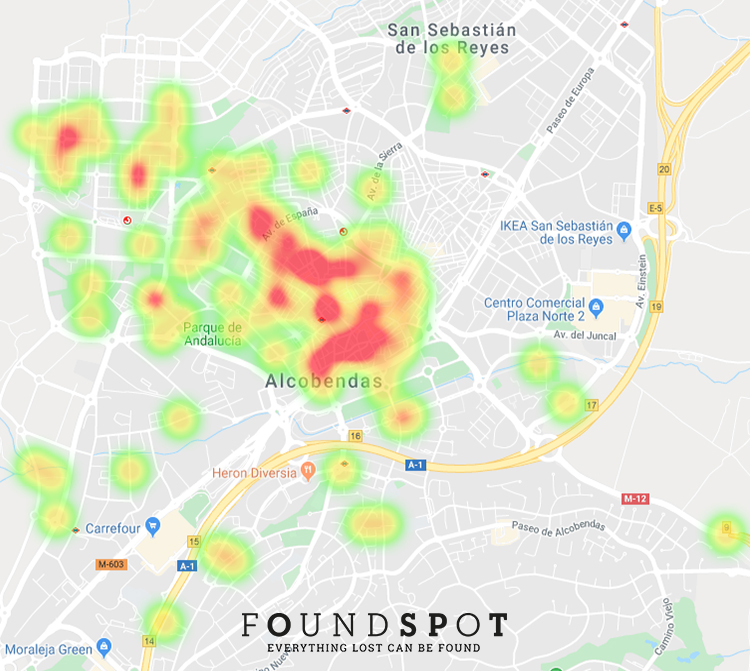 Alcobendas was the first Town Hall in Spain to implement this digital lost property initiative and the local police are very happy with the results so far.
A representative for the Alcobendas local police commented on the performance of "Alcobendas Encuentra" to date: "The platform has driven an important improvement in the internal management [of lost property] and in the information it offers to local residents. Two of the advantages that stand out for us are, firstly, the move from paper-based registration books to an efficient online service. And, secondly, the immediacy of the information available on lost items."
Foundspot continues to work closely with the Alcobendas Town Hall to ensure that Alcobendas Encuentra offers the best possible lost property service for the area.