CONNECT TO FIND
The global platform that optimise the managing of lost belongings.
Foundspot connects people all over the world who has lost something,
with the person or organization that has found it.

IMPROVE YOUR CLIENT'S EXPERIENCE
MINIMIZE TIME OF STORAGE AND MANAGEMENT

Automatic service that reduces management and storage space by more than 50%, increasing the return rate by up to 100%.

INTEGRATE IT IN A SIMPLE WAY

Very intuitive and easy handling of the tool, for both the client and the organization.

STAY CLOSER TO YOUR CLIENT

Gain your client's loyalty, helping them to recover their lost property. They will be eternally grateful.

EASY TO USE AND VERY INTUITIVE TOOL

Easy integration (connect and use) and start-up of the Platform.
WHAT MEANS A LOT FOR YOUR CLIENT
DOESN´T COST MUCH TO YOU
WANT TO BE A PARTNER?
Which plan matches your company best?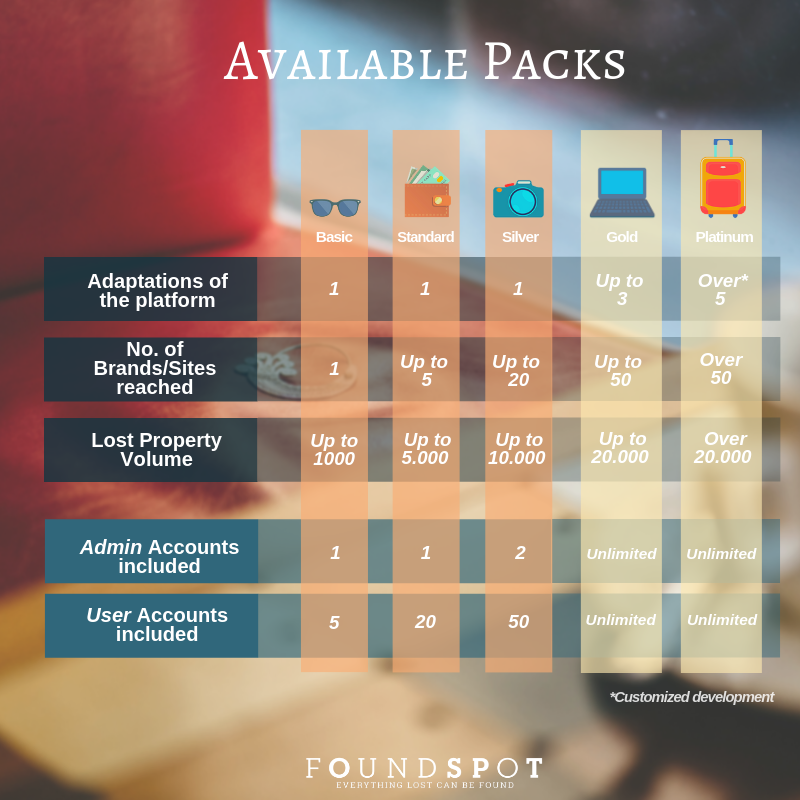 CUSTOMERS AND BUSINESS PARTNERS
Organizations we dedicate our social benefits